No road trip is complete without Nomad Internet's High-Speed Internet.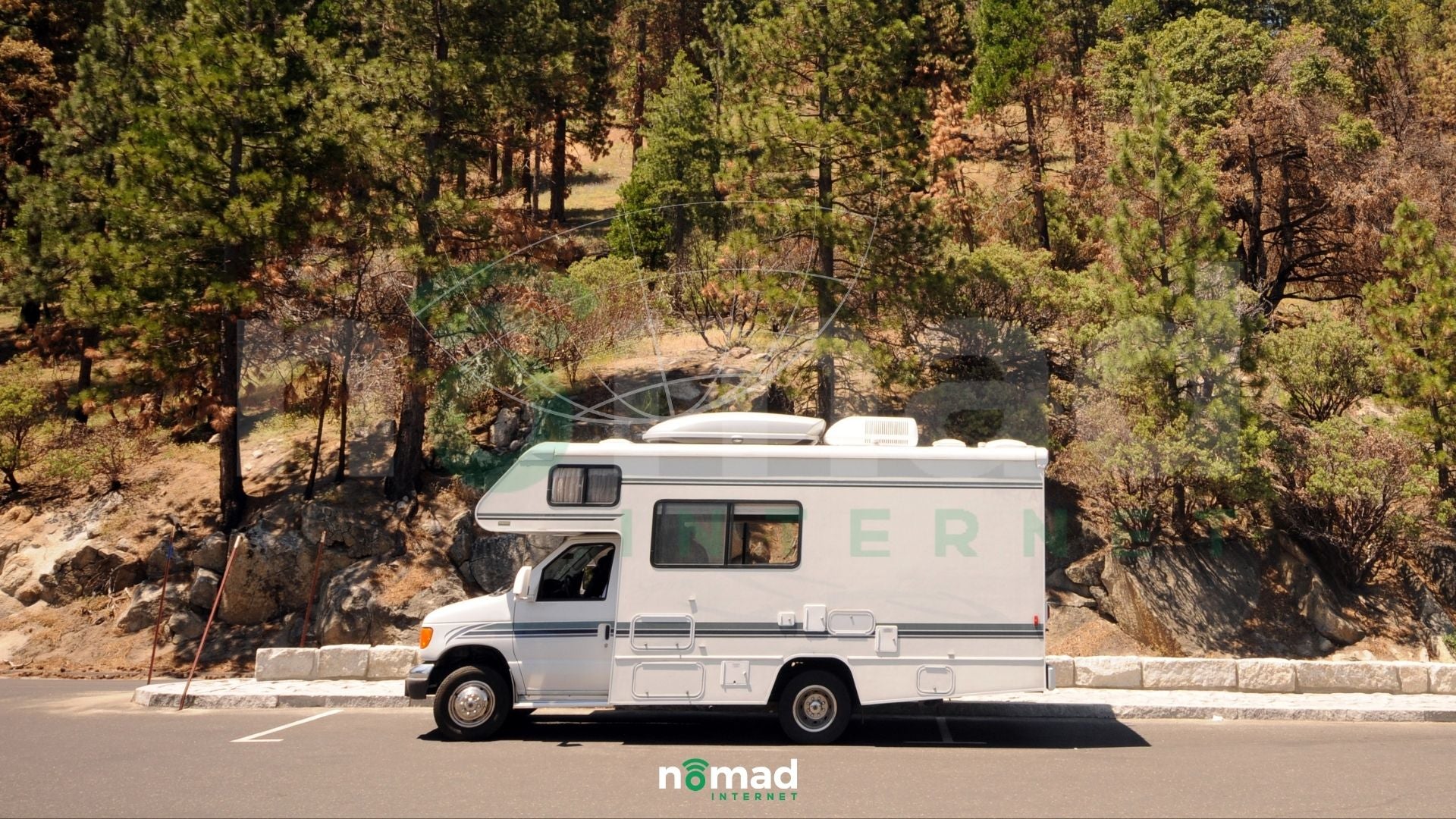 Digital nomads are individuals who work remotely. They also depend on technology to work. Since nomads are not tied to a particular location, many work from hotel rooms, cafes, beach fronts, cabins, lake houses, and small towns. But, whatever location digital nomads choose to work from, they would always need the internet.
So, what do you do when you have tons of work to complete but have no internet or cell service to do so?
As frustrating as this is, it is sadly the story of many digital nomads. You go to a new city or town every other month, and sadly, spend the first few days trying to solve your internet problems. And all that time, your employees are becoming impatient, you are losing gigs and money.
A digital nomad cannot afford to have internet problems because it's beyond just being unable to connect with family and friends. Your source of income depends on the internet. And without money, you are unable to afford the nomadic lifestyle.
I could go on and on about how much nomads need the internet but, you already know this. So, let me go straight to telling you how to stay connected even in the most remote areas.
Looking in from the outside, it seems practical to suggest you get extra antennas for your router, use a hotspot or connect to public Wi-Fi. But the truth is, you wouldn't be in this mess in the first place if you had a reliable internet service provider. So, I choose to start from the basics. Getting subscribed to a good service provider saves time, your job, and unnecessary internet drama. 
This brings us to an important question, how do you identify a reliable internet provider? 
The qualities of a reliable internet provider include; 
High-Speeds and modern Technology: You will come across many providers that promise incredibly fast internet, but it's the total opposite when tested. The speed of an internet connection depends on the quality of technology the provider uses. So, if an internet service provider uses outdated technology, best be sure that their internet connection would be slow. So, when looking for an internet provider, look out for providers that use updated technology. 
On-the-clock customer service and technical support: This is extremely important because, should you have issues with your internet, you want to be able to talk to support and get the issue resolved as quickly as possible. A reliable internet provider must have efficient technical support. This would keep you less worried anytime you have a problem with your internet connection. 
Consistency: Your internet cannot be down all the time. I mean, there's no point getting Wi-Fi if it keeps going down or disconnecting all the time. Also, there should be symmetrical speed. If a provider promises a particular speed for a certain plan, all users of that plan, regardless of location, day, or time, should be able to enjoy equal download speeds. A reliable internet service provider is consistent with its services, has minimal downtime, and has no fluctuations in speeds and latency.
An up-to-date website and social media presence: The world is digitized. I wouldn't trust a company or brand that has no online presence. This just makes life easier for you. You would get useful information about their services from their social media pages and website. Plus, you could see what other customers have to say about their services on their website. 
Cost: Although you can't put a price on good and reliable internet, you don't want to spend the bulk of your earnings on a service that may not be justified. Price should be justified by value. Also, it's best if you go for providers that offer a monthly subscription. Just in case the service isn't working for you, you can choose to discontinue use. 
Self-service option: Users should form simple tasks on their accounts such as Book a connection, Upgrade plan, Contact support, and Track data usage. It just makes life easier. 
Thankfully, There's an internet service provider that ticks all the right boxes. Introducing Nomad Internet - The Leading Wireless High-Speed Internet For Rural & Traveling Nomads.
Nomad Internet is an American internet company that provides High-Speed Internet that works anywhere there is network coverage within the United States.
Why Choose Nomad Internet?
Reliable High-speeds internet for nomads: Nomad internet understands the internet struggles digital-nomads face. Thus, by combining modern technology, Nomad internet provides its users with high-speed connections.
All Nomad Internet's devices connect to the nearby cellular towers, thereby providing its LTE data connection. This method of operation ensures that all users get sufficient internet signals even when miles away from a cellphone tower.
Value for money and flexible payments: Nomad Internet believes that whether you live in a remote location or not, the Internet shouldn't be overpriced. Nomad Internet offers Month to Month plans, no contract, and no credit checks! And you can cancel your subscription at any time.
Reliable customer service and technical support: When you join Nomad Internet, you become part of a connected community that works to get you online and keep you online with fast, reliable internet. If you ever have any problems with your internet, you can reach out to support via email or the instant chat on the website.
Cancel Your Plan (anytime you want): With Nomad Internet, canceling or changing your plans is quick and painless. The process is automated to make your life easier.
Customer's review: Nomad Internet is very particular about transparency and giving its customers the absolute best service. Customers are encouraged to leave reviews on the website. You can look through the thousands of reviews on Nomad Internet's website.
Connect multiple devices: You can connect multiple devices to a single router. Strong internet connection to all your home and office devices such as laptops, smart TVs, gaming consoles, and more.
Does all of these sound good to you? Then join the Nomad Internet family and use the code WELCOME25 at checkout to get a $25 discount on any router. Remember to keep an eye out for the WORK FROM ANYWHERE plan. 
Staying connected all day long shouldn't be a hassle. You can say goodbye to slow and unreliable internet with the right internet service provider. 
You'll be glad you did.