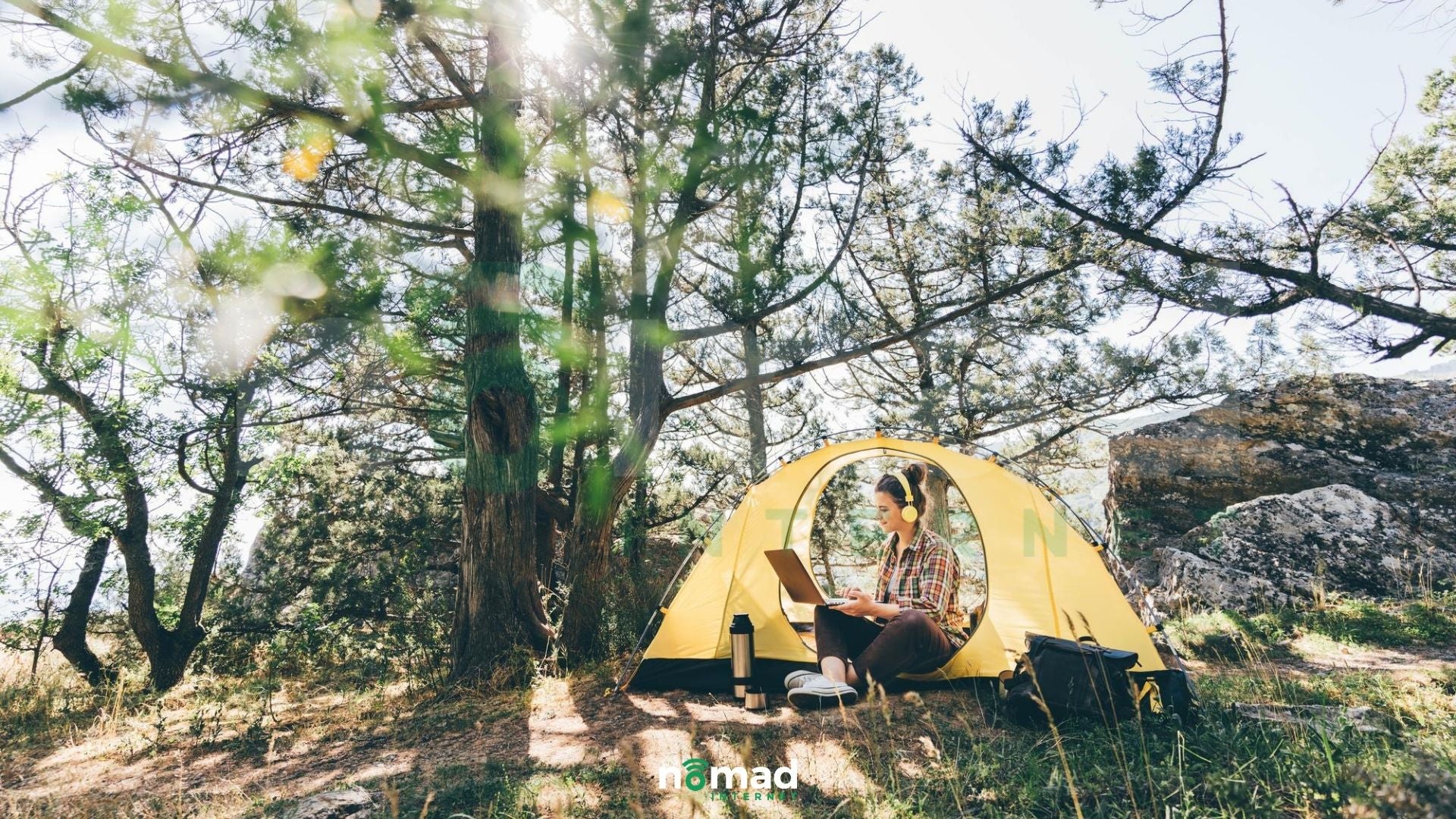 Camping and RVing share similarities in that they both are outdoor activities. But while camping is stationary, RVing is a mobile alternative. As you know, an RV is a recreational vehicle that contains a compact version of your home; kitchen, sleeping quarters, and bathroom.
Campers and folks interested in camping or RVing have a lot of camping sites to choose from. Typically, you are allowed to camp for free in areas belonging to US National Forests and Grasslands unless, of course, they are otherwise marked.
Some people may say the entire point of going camping is to get away from civilization for a while, including the Internet. But that isn't entirely true, or in this case, that isn't entirely necessary. Camping or RVing with high-speed internet can be equally wholesome and beneficial to your camping experience.
Still not sold on the idea of camping with high-speed internet? Here are a few reasons why it's such a great idea!   
Benefits of Camping & RVing with High-Speed Internet
The biggest benefit can be seen below:

Increased Safety
As fun-packed and exciting as it may be, camping outdoors can also be dangerous. There's always the risk of running into poisonous plants or dangerous animals; sometimes, the movies don't exaggerate. Having high-speed internet may mean the difference between life and death as it is easy to look up information quickly concerning first aid and other valuable stuff
Appreciate Nature
What better way to appreciate nature than to learn more about it as you camp outdoors. Discover a pretty flower you have never seen before? Or a bird? Quickly find out more about them on the fly, giving you a more detailed appreciation for them and also making you look cool to the other campers if there are any around.
Relationship Booster
Camping is a great way to increase bonding in relationships between friends, family members, and even colleagues from work. With high-speed internet, camping or RVing can even become more of an experience. New activities, including new hiking routes to explore or cool spots to visit, can be easily gotten from the internet.
Virtual Camping Community
Believe it or not, virtual camping is fast becoming a thing, especially after the pandemic. Families, friends, and even strangers living in different parts of the country would go camping in their local camping sites and connect to other campers via high-speed internet, so it seems they are all camping together. It builds a feeling of community and improves communications between groups.  
Entertainment
Apart from hiking, fishing, or telling stories around a campfire, high-speed internet can also provide extra entertainment and make your camping experience even more memorable. You can stream live shows and your favorite movies with your smartphone, play music online and even stream your camping experience on your social media so others can share your experience with you.
Now you may probably be wondering how you are ever going to get connected to the internet in the middle of nowhere, right? Here are a couple of ways to get internet while camping or RVing.
How to get Internet while Camping or RVing
There are some solutions for getting Internet while Camping
1. Your Smartphone
You should see a "Wi-Fi hotspot" option in your phone's menu, which shares your phone's internet connection with other nearby devices. However, service may be choppy depending on the areas you camp and the limitations of the number of devices you can use.
2. Special Internet USBs
These USB modems are can connect you to a nearby 3G network. If you venture out too far, they might lose connectivity.
3. Campground Wi-Fi
You may not have this, and there's a chance it's overcrowded and unusable. 
4. Nomad Internet
Nomad Internet provides Internet made for those who live in rural communities or those on the go! We know connecting in these areas can be difficult, so we're here to help you find the right plan for you.
By working together with the major carrier networks in the USA to combine the latest 4G LTE cellular technology with the Provider's service, Nomad offers the advantages of a major Internet provider without the contract!
High-Speed 4G LTE
No Contract
Up to Unlimited Data
No Credit Check
Home & On-The-Go
7-Day No Risk
With our "Works Anywhere Plan," you will have access to High-Speed Internet well, Anywhere. 
The rise in the rate of campers in the country indicates a shift in the way people appreciate the environment and nature. Now more than ever, it is vital that you have access to high-speed internet developed to allow folks to embark on outdoor adventures. 
Nomad Internet is improving the internet in rural areas. Therein also increasing the market reach, opportunities, education, health care, and provides access to socio-economic information and cultural resources from all over the world to rural areas in America.
Join the Nomad Internet Family today and get
$25 OFF
when using the code
WELCOME25
at checkout.